Cassie Gannis Joins CM2 Family, Looks Forward To 2017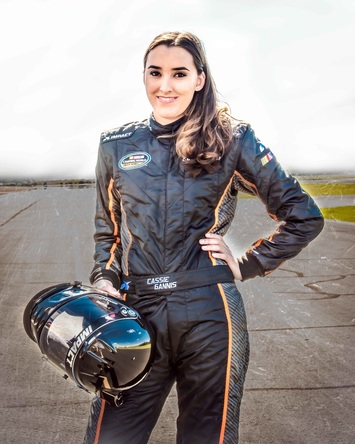 Cassie Gannis, winner of the "Most Popular Driver" award in the NASCAR K&N Pro Series West, has joined the CM2 family. Approved for select tracks in both the NASCAR XFINITY Series and NASCAR Camping World Truck Series, Cassie is hoping to make 2017 the year she is able to advance her career to the upper ranks of NASCAR.

With a resume that includes success in everything from quarter midgets to the NASCAR K&N Pro Series, Cassie has proven herself to be a worthy competitor and an excellent brand ambassador.

​"We're really hoping 2017 is the year we can move up the ranks in NASCAR," says Gannis. "We just need some marketing partners to join our program."

​In 2013, Cassie was 1 of 9 Drivers chosen out of 700 by Michael Waltrip and PEAK to attend the PEAK Stock Car Dream Challenge. The 3 day battle, "Showdown in Charlotte", under the direction of Michael, Mark Martin, Clint Bowyer, Martin Truex, Jr. and Brian Vickers was aired on Fox Sports 1.


---
Follow Cassie:
---
About Cassie Gannis:
Accomplishments
2014 Featured and Honored Guest Driver to race in the Susan G Koman "Race for a Cure" racecar at Tucson Speedway OCT
2013, 1 of 9 Drivers chosen out of 700 by Michael Waltrip and PEAK to attend the PEAK Stock Car Dream Challenge. The 3 day battle, "Showdown in Charlotte", under the direction of Michael, Mark Martin, Clint Bowyer, Martin Truex and Brian Vickers was aired on SPEED/FOX Sports 1.
WINNER OF THE NASCAR K&N PRO SERIES WEST "MOST POPULAR DRIVER" 2012 presented at the NASCAR Night of Champions Gala in Charlotte, NC at the NASCAR Hall of Fame
Professional Training
Made her NASCAR Camping World Truck debut in November 2015 at Phoenix International Raceway before her hometown fans.
Approved for the ARCA Racing Series at Daytona International Speedway DEC 2014.
Professional Instructor for "Basic Car Maintenance" for Community Tires of AZ and Driving MBA. 2010 to 2013
Professional Driver for Rusty Wallace Racing Experience (formally Drivetech) providing the NASCAR experience to race fans and corporations. 2010 to 2012 at various NASCAR tracks
1 0f 36 drivers chosen to attend the 2011 NASCAR Drive for Diversity Combine in Oct 2010 in Radford, VA at Motor Mile Speedway
1 of 30 drivers chosen to attend 2010 NASCAR's Drive for Diversity Combine in Oct 2009 in Charlotte, NC and Motor Mile Speedway in Virginia 2009 out of 5000 applicants (Cassie had the fastest female Late Model Time and placed second in the overall Late Model Competition)
Chosen to attend 2009 NASCAR's Drive for Diversity Combine on Oct. 13-14 in South Boston, Va 2008
Driving Instructor for Trackdays/Infiniti of Scottsdale Firebird Raceway April 2008 and Pro Auto Sports High Performance and Defensive Driving
Honored Guest at Women in the Winners Circle Celebration Luncheon: Honoring Women in Motorsports Indianapolis Motor Speedway July 26, 2007 Lyn St. James Driver Development Program November 2006
Racing Experience
Approved for the ARCA Racing Series at Daytona International Speedway, turned out the fastest time and most consistent line among Roger Carter Motorsports drivers, DEC 2014
Cassie became team owner of her own NASCAR Super Late Model Team #47, Placing consistently in the top 5! 2013 to present
NASCAR K&N Pro Series West Car #22 for Gomez Motorsports, #01 for GSR Racing & NASCAR Whelen All American Super Late Model Series 2012
NASCAR K&N Pro Series West Car #07 2011 for GSR Racing
Toyota Speedway at Irwindale, Colorado National Speedway, Spokane County Raceway, Washington
NASCAR Whelen Super Late Model Car #7 2010 to 2011
Tucson Raceway Park, Las Vegas Motor Speedway "The Bullring, Irwindale Raceway
NASCAR Whelen Late Model Series Car #56 2009 Irwindale Raceway
NASCAR Whelen All-American Series #7
2007- Present Race Tracks: Tucson Raceway Park; Las Vegas Motor Speedway "The Bullring"; Orange Show Speedway; Irwindale Raceway
2008 4 top 5/8 top 10 TRP finished 7th in points/Las Vegas "Bull Ring" finished 19th in points
2007 2 top 5/7 top 10 finishes in only 11 races TRP finished 11th in points
ASA Speed Truck Series 2006
INEX Legends Series
2004 – 2007 Race Tracks: Tucson Raceway Park; Las Vegas Motor Speedway "The Bullring"; Orange Show Speedway; Irwindale Raceway
2005 Rookie of the Year and placed 3rd in points
INEX Bandolero Series
2003 – 2005 Race Tracks: Tucson Raceway Park; Las Vegas Motor Speedway "The Bullring"; Lucas Oil I-10 Speedway
2003 Arizona State Champion
Quarter Midget Series (15 top 5 finishes/18 races)
1999 – 2003 Race Tracks: South Mountain Park; Tucson Quarter Midget Track