DOUG HERD- ARCA DRIVER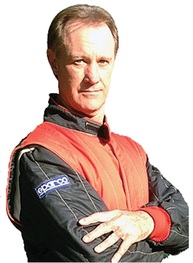 Nascar drivers used to say the legendary Dale Earnhardt could 'see' the air flowing over the racer cars. While that may sound kind of odd at first, it doesn't to Doug Herd. You see, Doug has established quite the career in the aerospace industry with some of its most famous firms, such as Northrup - Grumman, Aerospace Technologies and Bell Helicopter.

"Whether it's a fighter jet or a race car, both vehicles need to cut through the air with as little resistance as possible," notes Herd. "Just like the contours of a wing need to be finessed to find the right balance of lift and down force, so too must the sheet metal of a race car. The smallest differences can have a huge impact, especially on the super-speedway tracks."

Doug has been able to apply many aerospace concepts and applications to his racing career, both as a driver and a crew chief. In fact, Doug was a winning crew chief before moving into the drivers seat. "In the aerospace industry, the most minute details can be the difference between a successful flight and disaster. When I became a crew chief I applied the same attention to detail to the race car as I did to the airplanes. When less than one second means the difference between being the fastest qualifier or one of the slowest, details are important."

When Doug transitioned from crew chief to driver, his methodical, technical mind set carried over as well. Says Doug, "Driving is one third instinct, one third technical and one third experience. My time as a crew chief allowed to me watch what lines drivers were most successful with and figure out what the race car was experiencing mechanically. My aerospace background comes in real handy when building and setting up the cars. As a driver I was able to combine that knowledge with the experience of actually navigating both the track and the other drivers."

All of this has led Doug to enjoy a winning racing career at tracks across central Texas. With the right marketing partners, Doug can take his many talents onto the national stage.

---
---
Sponsorship Opportunities With Doug Herd Racing

For more information on the sponsorship opportunities available with Doug Herd Racing, contact CM2 Motorsports Marketing. Click on the button below to download Doug's 2016 Partnership Marketing Guide.

Sponsorship packages are available at multiple price-points and for single and multi-race programs.