DRIVER SERVICES

In today's world, race car drivers have to not only have to be great behind the wheel, but they also need to be corporate spokespersons and ambassadors for their sponsors. And while doing all of this, they also need to cultivate their own identity and brand.

We work with our drivers to develop their own personal branding that is engaged with their fans through social media, appearances and at the track. Creating a unique brand allows drivers to be establish themselves not only as a strong representative for sponsors, but for merchandising and endorsements as well. We also work with young drivers to elevate their careers from racing at local tracks to competing in national series. We groom drivers with media training, mentor them with established, respected veterans and match them with a team for which they are a good fit.

Marketing Programs
Media Training
Public Relations
Contractual Negotiations
Endorsements
Brand Development
Accounting Services
Digital and Social Media Management
---
TEAM SERVICES

CM2 offers teams a turnkey solution for all their marketing, p.r. and sponsorship representation needs. Working with a single source reduces the amount of time teams need to dedicate to "non-racing" activities, allowing them to focus on the things they do best.

We work with teams to either create or build their brand equity among both race fans and (potential) marketing partners. With smaller teams, we design programs to elevate their image, making them more attractive to potential marketing partners while building a bigger fan base to present a potential sponsor with.

From website design and maintenance to press releases to social media management to sponsorship representation, Boswell & Associates offers every service a race team needs in order to compete off the track.

Website Design & Development
Digital & Social Media Management
Mobile Marketing
Brand Identity Development
Partnership Marketing
Cause Marketing
Strategy
Hospitality
Public Relations
Engagement Marketing
Sponsorship Representation
Scouting
Program Evaluation
---
"RACING TO MAKE A DIFFERENCE"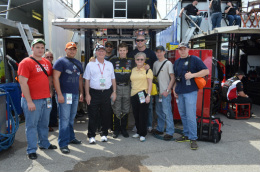 CM2 began its "Racing To Make A Difference" Program in 2009. Since then, we have worked with the Wounded Warrior Project, Operation Homefront and, since 2012, Eagle Rock Camp.

We work with drivers and teams with either military or children's charities / non-profits. With Cause Marketing programs, everyone involved is a winner. Drivers and teams can help raise awareness and money for a worthy cause. The charity is able to help more people. The more people we can help, the better off we all are.

Contact CM2 to learn more about our "Racing To Make Difference" program.
---