Partner With MB Motorsports, the Sole Surviving Original NCWTS Team

---

CM2 and MB Motorsports have sponsorship opportunities available for the 2016 NASCAR Camping World Truck Series season. Partnership Marketing opportunities, both primary and associate, are available.

Whether you are looking to reach a national audience or regional, MB Motorsports can help your organization grow in a very cost-effective manner.

Not only will you reach approximately 30,000 race fans at these races, but an average of 800,000 viewers with each broadcast on FOX SPORTS 1. The team hauler alone will deliver an estimated 3,446,423 impressions traveling to and from the 23 races in 18 states and provinces on the NASCAR Camping World Truck Series schedule. In addition, MB Motorsports' PR team will get your organization exposure on the radio, internet and print media.

"The number of ways a company has to maximize their investment in a marketing partnership with MB Motorsports is amazing," says team owner Mike Mittler. "Most marketing efforts allow a company to reach one, specific group. Working with our NASCAR Camping World Truck Series team allows an organization to market not only B-C to an extremely loyal group of fans, but the opportunities for B-B development are outstanding as well.

"As a team sponsor, you have the opportunity to turn each race into an employee morale event, allowing you win on three fronts. Given how much less it costs to work with our truck team, any organization wanting to reap the benefits NASCAR offers, is going to be extremely pleased with the results."

---
---
MB Motorsports: The sole surviving Original NCWTS Team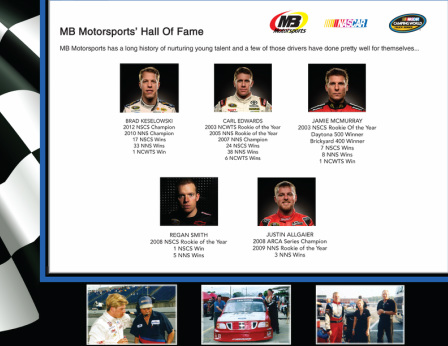 Since the NASCAR Camping World Truck Series debuted in 1995, only one team has competed in each and every season in series history- MB Motorsports. When the team made its first start at the historic Milwaukee Mile with the late Tony Roper, no one would have guessed that they would be enjoying their best season as they mark their 20th Anniversary.
In a season in which the team has scored it best average start and average finish, MB Motorsports enjoyed their best race ever at the famed Eldora Speedway. 18 year old Bobby Pierce, Jr. won the pole and the first qualifying race before finishing second in the Mud Summer Classic. At Canadian Tire Motorsports Park, the team worked with its first drivers from outside the US when Daniel Brown, an English road racer, and Akinori Ogata, a multi-series racer from Japan, climbed behind the wheel of the #63 Chevrolet.
MB Motorsports has earned a reputation for launching the careers of talented, young drivers into NASCAR racing, such as:
· 1998 Nextel Cup Rookie of the Year, Kenny Irwin
· 2003 Nextel Cup Rookie of the Year, Jamie McMurray
· NASCAR Sprint Cup Winner / 2007 NASCAR Xfinity Series Champion / 2003 Craftsman Truck Series Rookie of the Year, Carl Edwards
· 2008 ARCA Champion, Justin Allgaier
· 2012 NASCAR Sprint Cup Champion Brad Keselowski
· NASCAR Sprint Cup Winner Regan Smith
The only NASCAR team based in Missouri, MB Motorsports is known in the garage for being "racer's racers". The "Little Team That Could" continues to make its mark in NASCAR, finding young talent and grooming them as they advance their careers in the world of racing.
Visit MB Motorsports: www.mbracing.net
Follow MB Motorsports on Twitter @MBMotorsports
Follow MB Motorsports on Facebook

To Download the MB Motorsports 2017 Partnership Marketing Guide, click on the button below.
---
For more information, please contact CM2 today, 815.939.1382, or complete the information request form below:
---